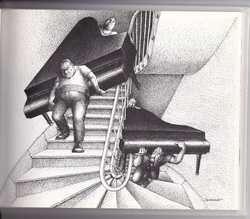 Policy
FLAT RATE:
Book (even tentatively) your 2015-2016 recital before September 15 for a flat rate of $250 including two rehearsals, dress rehearsal, permission and recital!
REFERRAL SAVINGS:
Refer your colleague and get one rehearsal for free if she/he starts working with me!
Rates (vary based on travel, preparation and personal considerations):
Rehearsals $70/hour
Recordings $70/hour
Auditions/Competitions/Juries/Masterclasses/Studio classes $70
Recitals $140
If copies of sheet music are to be used, they should be neatly organized in a binder
The payment should be received at the beginning of each rehearsal
24 hour notice is required for any date/time changes to avoid payment
Fee support for Anna Arazi may be available to nonprofit organizations through the New England States Touring (NEST) program of the New England Foundation for the Arts. Visit
www.nefa.org
for more information.
Collaborative Repertoire
Violin
B. Bartok Romanian Folk Dances for Violin and Piano
L. van Beethoven Sonatas
E. Bloch Baal Shem
J. Brahms Violin Concerto in D Major
J. Brahms Sonatas
M. Bruch Violin Concerto No. 1
E. Chausson Poem
C. Debussy "Moonlight sonata" arranged for violin and piano
G.F. Handel Violin Sonatas
F. Kreisler "Liebesleid" and "Schön Rosmarin"
E. Lalo Symphonie Espagnole
J. Massenet Meditation from Thais
F. Mendelssohn Violin Concerto in E Minor
W.A. Mozart Sonatas
N. Paganini "Moto Perpetuo", "Campanella" and "Moise"
S. Prokofiev Three pieces from "Romeo and Julia" for violin and piano
S. Rachmaninov "Vocalise"
C. Saint Saens "Introduction and Rondo-Capriccioso"
P. Sarasate Introduction and Tarantella
P. Sarasate Romanza Andaluza
A. Schnittke Quasi Una Sonata
D. Shostakovich Preludes arranged for violin and piano
I. Stravinsky Russian Song (from "Mavra")
G. Tartini Violin and Piano Sonata "Didona Abbandonata"
P. Tchaikovsky "Melody"
P. Tchaikovsky "Serenade melancolique"
P. Tchaikovsky Violin Concerto
G. Wieniawski "Scherzo-Tarantelle"
G. Wieniawski "Legende" Op. 17
G. Wieniawski Violin Concerto No. 2

Cello
L.van Beethoven Sonatas No. 2 and 3
G. Bizet La Toupie and La Poupie
J. Brahms Cello Sonata No. 1
M. Bruch Kol Nidrei
O. Bruckner Nocturno
A. Glazunov Elegie
J. Massenet Meditation from Thais
D. Popper Hungarian Rhapsody
D. Popper Tarantella
D. Popper Spinning Wheel Concert Etude
S. Rachmaninov "Vocalise" for cello and piano
S. Rachmaninov Elegie
C. Saint Saens Cello Concerto No. 1
C. Saint Saens "The Carnival of the Animals" arranged for cello and piano
D. Shostakovich Cello Sonata
G. Wieniawski Scherzo-Tarantelle
Double Bass
Y. Braun Sonata
P. Hindemith Sonata
S.Koussevitzky Double Bass Concerto

Horn
L. van Beethoven Horn Sonata in F Major, Op. 17
E. Bozza En Foret
B. Britten Serenade for Tenor, horn and strings
E. Chabrier Larghetto
L. Cherubini Two Sonatas
F. Chopin Polonaise Brillante
F. Danzi Horn Sonata in E-flat Major
F. Danzi Horn Sonata in E Minor
P. D'Rivera Two Pieces for Horn and Piano
P. Dukas Villanelle
A. Glazunov Reverie
R. Gliere Four Pieces
J. Haydn Concertos
N. von Krufft Sonata in E Major
W.A. Mozart Concertos
A. Piazzolla - S.Gubaidulina Le Grand Tango
A. Plog Three Miniatures for Horn and Piano
F. Ries Grande Sonate
G. Rossini Prelude, Theme and Variations
C. Saint-Saens Romances
C. Saint-Saens Romance
C. Saint-Saens Morceau de Concert
F. Schmitt Lied and Scherzo
R. Schumann Adagio and Allegro
R. Schumann Fantasiestucke
R. Strauss Concerto No. 1, Op. 11
R. Strauss Nocturno
F. Strauss Thema und Variationen op. 13
F. Strauss Horn Concerto
P. Tchaikovsky Serenade Melancoloque op. 26
A. Vivaldi Violin Sonata No. 2 arr. for horn
C.M. von Weber Cavatine
Trombone
J.G. Albrechtsberger Concerto
J. Berghmans La Femme A Barbe
J. Brahms Four Serious Songs
J. Casterede Concertino
F. David Concertino
G. Faure Three Songs
W. Goldstein Colloquy
L. Grondahl Trombone Concerto
A. Pryor Blue Bells of Scotland
R. Schumann Three Romances
S. Stojowski Fantasy
H. Tomasi Concerto
Tuba
A. Arutiunian Concerto
J. Barnes – Concerto for Tuba and Band
E. Bozza Concertino for Tuba and Piano
B. Broughton Tuba Sonata
J. Casterede Sonatine
M. Ellerby – Concerto for Tuba
M. Fagerudd Rambling Tuba Rag
P. Hindemith Sonata for Tuba
S. Jones – Concerto for Tuba
T. Madsen Sonata
A. Plau Concerto for Tuba and Strings
A. Plog Sonata for Tuba and Piano
A. Plog Three Miniatures
D. Shostakovich (1906-1975) Adagio from "The Limpid Stream" op. 39
T. Thibault Three Dances
T. Turriago Sonata for Tuba and Piano
Thom Ritter George Sonata
V. Williams tuba concerto
Saxophone
A. Glazunov Concerto
J. Ibert Concertino da Camera