Photo credit: Alexandra Wimley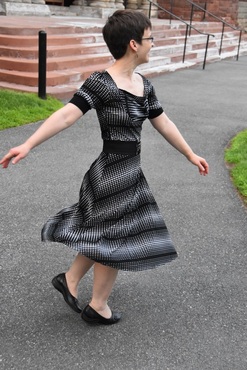 Bio

Israeli pianist Anna Arazi is a prize winner of the 2015 Dallas International Piano Competition (Third Prize), the American Protege 2014 (Second Prize), and the 2014 Boston University Concerto Competition. Ms. Arazi frequently appears as a soloist and a chamber ensemble member, often playing contemporary music. On her account are several world premieres, including compositions by Richard Cornell, Joshua Fineberg, Martin Amlin, Adam Berndt and others. In the summer 2015 she is planning to premiere chase by Ketty Nez. Her force, technical brilliance and pristine execution were praised in TheaterJones reviews in March 2015, while Boston Musical Intelligencer described one of her duo appearances as "a great fun" and "a theatrical flourish".

Ms. Arazi has founded and been running several community projects at Boston University, engaging Boston inhabitants and students in musical activities and discussions. Among others, she organized a Musical Marathon, joined by performers from Connecticut, Massachusetts and Rhode Island, as well as from Brazil, China, Croatia, Germany, Greece, Israel, Korea, Russia and Spain to collect donations for the Boston Marathon bombing victims (Symphony Magazine, summer 2013).

Ms. Arazi earned her doctoral degree from Boston University 2015. Her dissertation is focused on the piano legacy of the first Israeli woman composer Verdina Shlonsky (1905-1990). Ms. Arazi is currently working on a world premiere recording of piano works by Shlonsky (approximate release date is October 1 2015). In addition to her concert and scholar activities, Ms. Arazi enjoys a variety of teaching engagements. She maintains a high-quality private studio, featuring a number of prize winners. She taught keyboard skills and keyboard harmony at Boston University as a graduate teacher during her doctoral studies. Furthermore, Ms. Arazi has regularly given masterclasses in the US and abroad, including World Piano Conference in Novi Sad, Serbia in 2014 and Boston University Tanglewood Institute.
Fee support for Anna Arazi may be available to nonprofit organizations through the New England States Touring (NEST) program of the New England Foundation for the Arts. Visit
www.nefa.org
for more information.
---
Publicity photos